Café/Bar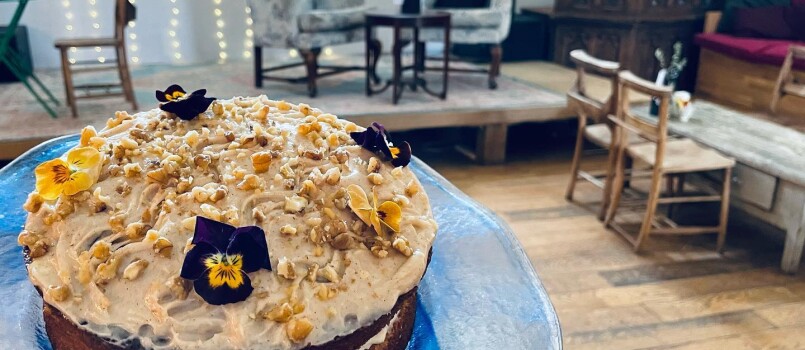 The Globe at Hay's Café
The Globe at Hay's café is open and ready to fulfil your caffeinated or decaffeinated wants and needs. With an extensive selection of loose-leaf teas varying from Darjeeling, Hibiscus, Rooibos, peppermint and more. Additionally, we are proud to make our coffees with Clifton Coffee Speciality Roasters, accompanied by fresh, locally sourced creamy milk or milk alternative.
Aside from coffee and tea, we invite you to indulge in a deluxe Globe at Hay hot chocolate! Our tasty hot coco is made with a super-rich, luxurious, well-balanced blend of chocolate powder, topped off with fresh, creamy milk. For final touches, a generous helping of whipped cream, marshmallows, and a sprinkle of cinnamon or chocolate powder!
The Globe at Hay's Bar
Local, Speciality Drinks, Cocktails and More
The Globe at Hay offers a fantastically atmospheric way to spend your leisurely day out in Hay-on-Wye, or your Friday and Saturday evenings.

With our fridges fully stocked with all the local favourites from the Wye Valley Brewery's very own ales such as Butty Bach and Golden Ale. Additionally, we offer a wide variety of thirst-quenching ciders of Herefordshire Weston's finest, including the deliciously organic Wyldwood.

The Globe at Hay also offers a divine selection of cocktails, including Espresso Martini, Elderflower Gin Fizz, Cosmopolitan and more.

With ambient low lighting and atmospheric jazz, funk, and soul music to set the mood, the Globe's relaxed boutique indoor seating makes for an ideal place to spend a cosy and intimate evening with friends and loved ones. Bring your board games or deck of cards from home to add to the excitement of the evening.